Wondering how easy it is to grow lettuce? Well, lettuce can be grown from in as little as 30 days with minimal care that can achieve optimum results.
Although there are many ways to start and grow lettuce, I will explain what we typically do, which seems to work for us.
First, we buy the seeds. Lettuce seeds are cheap and they are a super value when you buy the packs with 1000 or more from seed companies online.
Depending on where you live, some varieties will be give better results than others. For example, in the Pacific Northwest, Grand Rapids and Buttercrunch do awesome. The former is a leaf lettuce and Buttercrunch is more like a Romaine which works great in Caesar's salad.
After several years experimenting with many other varieties and lettuce spin-offs like Arugula, we settled on these two because they don't have big bolting issues, grow fast, taste great and grow very healthy.
On the other hand, plants like Arugula and many mixes like Mesclun mix can bolt with even a few days of hotter weather in earlier spring. Personally, these types of lettuce would do better in a climate controlled greenhouse near 70 degrees or in optimal outdoor temps.
Germinating the Lettuce Seeds
Starting lettuce is very easy because they do need light for effective germination. Therefore, we can use a 72-cell flat with a starter mix(peat / 5%-10% vermiculite) that is saturated with water and just sprinkle the seeds on top using a hand seed sower or our fingers.
With new seed, we can get high germination results, but, if we put 2 in each cell we will definitely have over 1 per cell. If some cells don't sprout new plants, we can use a spoon and transplant them over. If seeds are kept in a cool, dry place, they may germinate fine for the next few years too.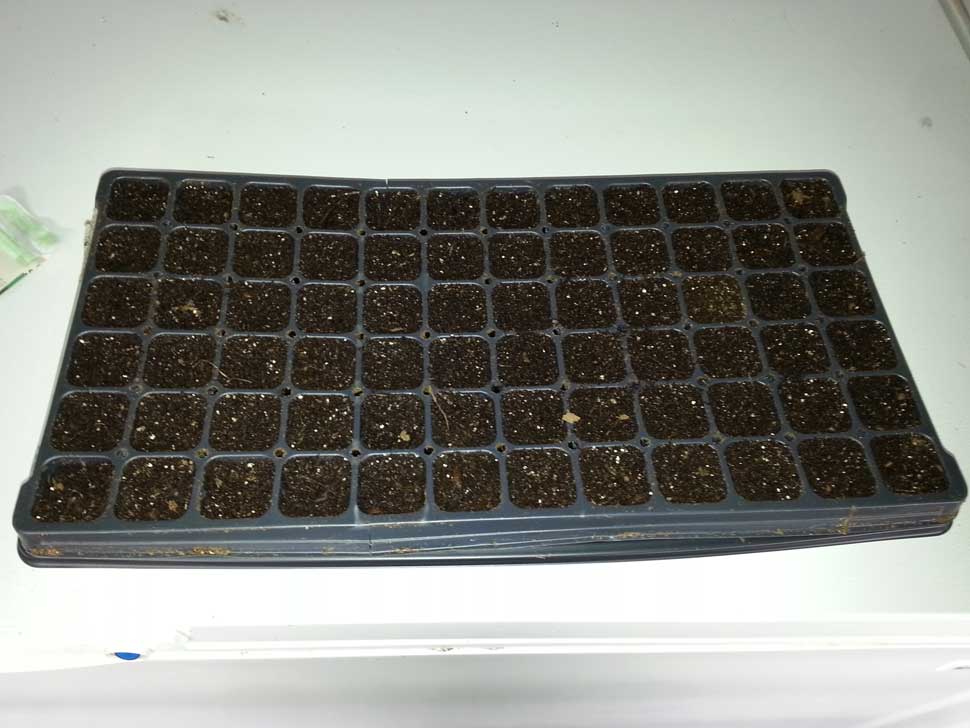 Once the lettuce seeds are on top of the medium, we can put on a dome and place the tray under lights until they germinate, which will be less than a few days. If we don't have a dome, we can cover the tray with clear, plastic poly.
At this point, we can grow them here for up to 5 weeks or move them to a greenhouse or outdoors at any time, depending on the weather.
Transplanting
When the time comes, we can move them into our pots or garden. What works great for transplanting larger numbers is a 1×2 stick of wood with a pointy tip. We can cut the tip with a mitre(chop) saw, circular saw, jigsaw, sawzall, hand mitre saw or a wood saw. The cut bottom looks like a cement trowel.
Once we transplant, we can feed regularly using a 400ppm fertilizer formula in hydroponics with ph 5.6-6.5, or some other technique we use. With hydroponics, regular saturation of the medium will help reduce chance of bolting because root temp will be in a more optimal range.
Systems of Choice
Since lettuce is a rather small, non-staking plant without a very large root system, we do have many options for which to transplant them.
Vertical Garden With Stacked Pots
Our system of choice are a system of 5-7 stacked vertical pots. This gives us plenty of standing room to work with and anywhere from 20-32 plants grown in a minimal area near 4 square feet.
We have grown lettuce using two different sizes of stacked pots. The smaller 12-inch 1 gallon pot worked okay, but the results were far better with the larger 3-gallon 14-inch pot. The larger pots were also much stronger and made from the better HDPE #2 plastic.
In fact, I still wonder what to do with the other unused pots as they are too inferior to use in the garden and that size was rather useless.
To build a vertical garden system like this, we use the instructions here.
Asides from our go to system, we have many other hydroponic and dirt options to choose from. The following list of hydroponic system can be built with supplies from hardware stores / hydroponic shops.
A word about growing hydroponic lettuce on a larger scale. Although vertical growing looks great in concept, many farms have experimented with that and have returned to single layer hydroponic NFT systems due to the uniform growth as being one major reason.
A major vendor for lettuce NFT systems is Crop King in the USA.
Dirt 
Growing in dirt is not much different in concept than hydroponic. The key is that plant receive adequate amounts of required nutrients and water. However, it is more back-breaking work and can leave lettuce quite dirty because rain will splash dirt back on top of the edible leaves.
Harvesting
With lettuce, we can pick the whole plant and replace, or keep picking outside leaves and consume the same plant for months.