Many plants grown in this system were started from seed near April 1, 2017. Some were started within a month or so later. It holds about 500 plants in total and contains tomatoes, colored peppers, jalapeno peppers, cucumbers, lettuce and cilantro. The carousel below shows views of the garden system.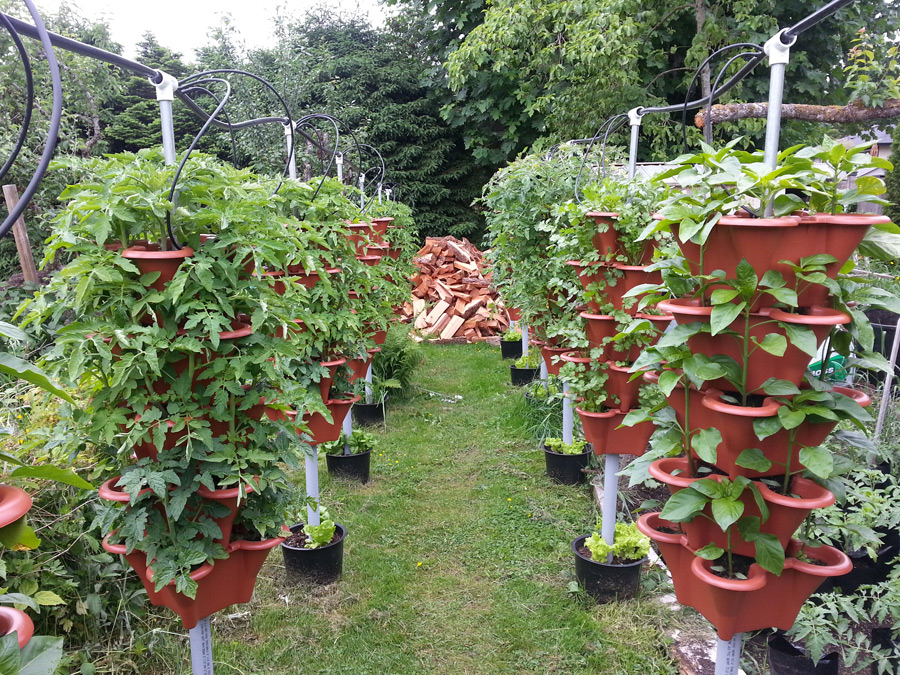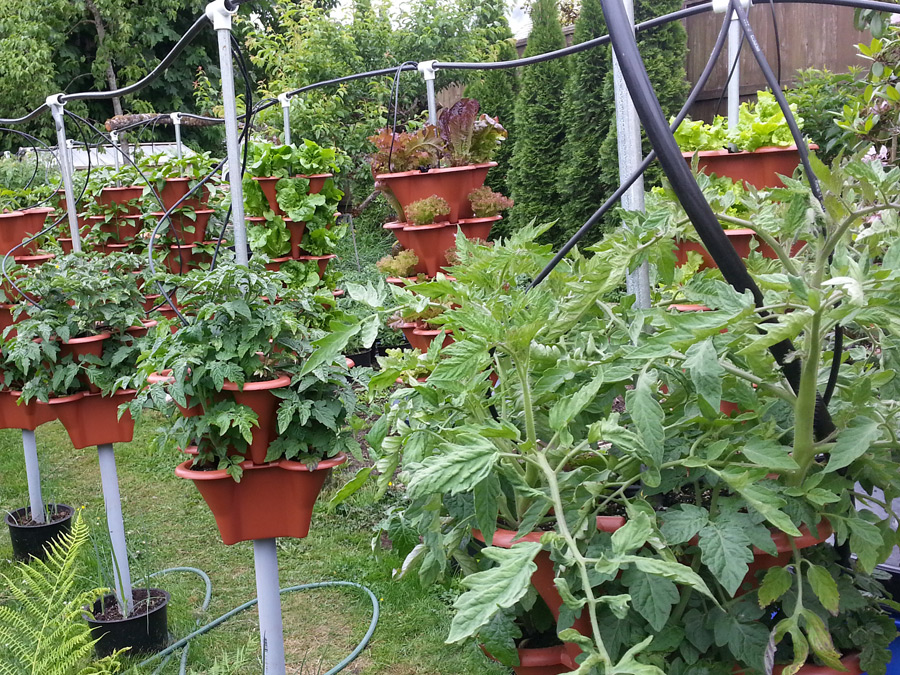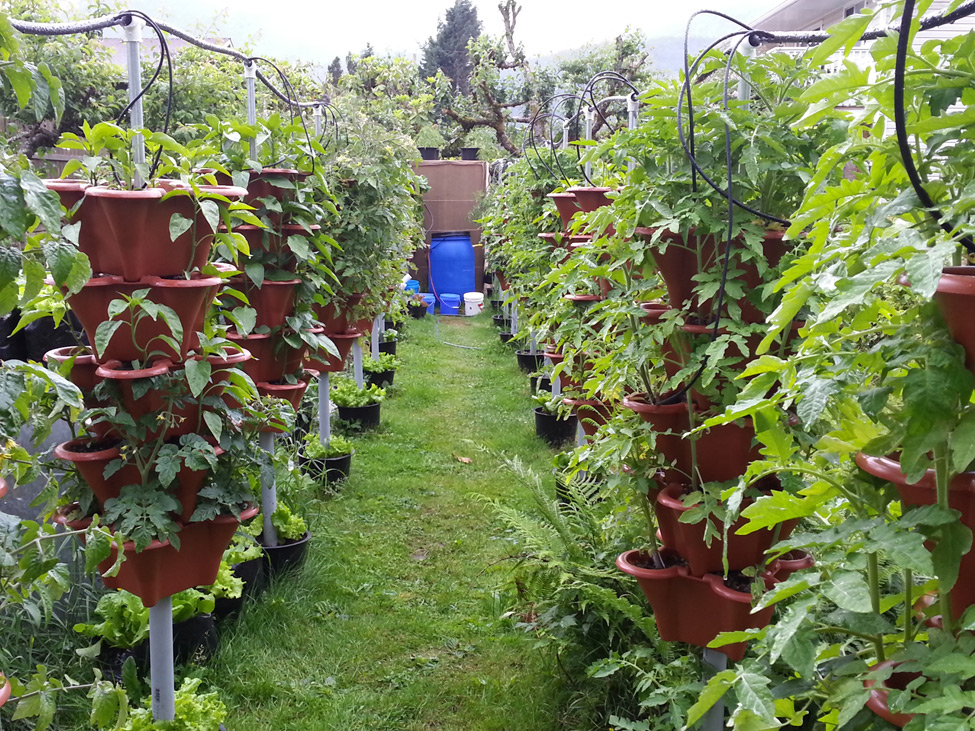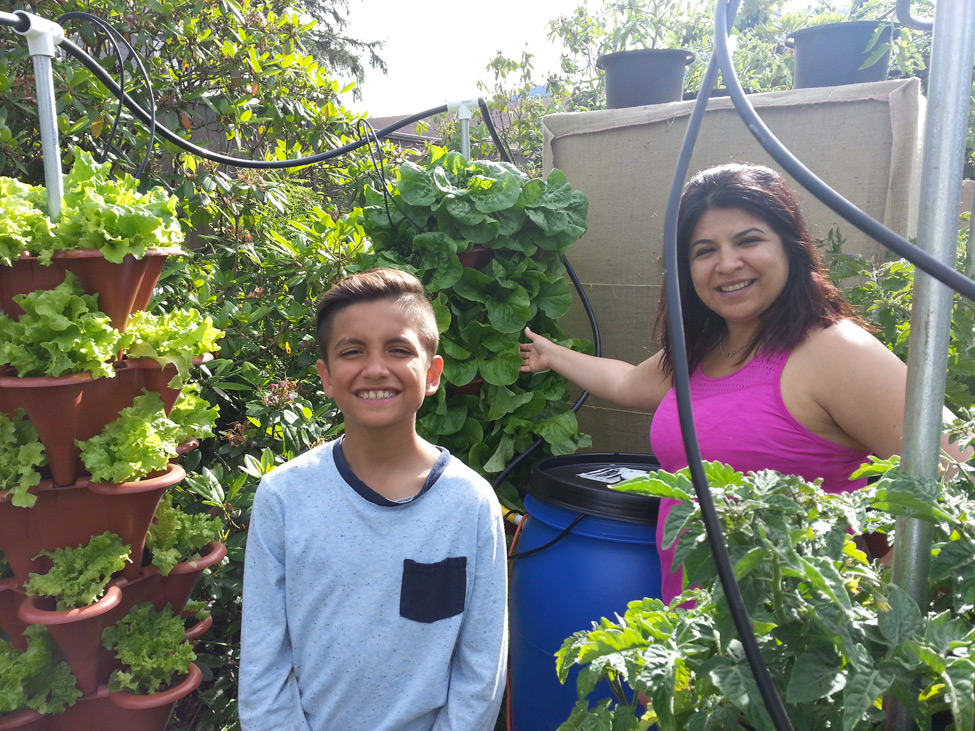 Lettuce
There are 3 types of lettuce in the system; leaf, buttercrunch and mixed red lettuce varieties. All seem to do fairly well. They get picked perpetually by picking outer leaves as they grow larger.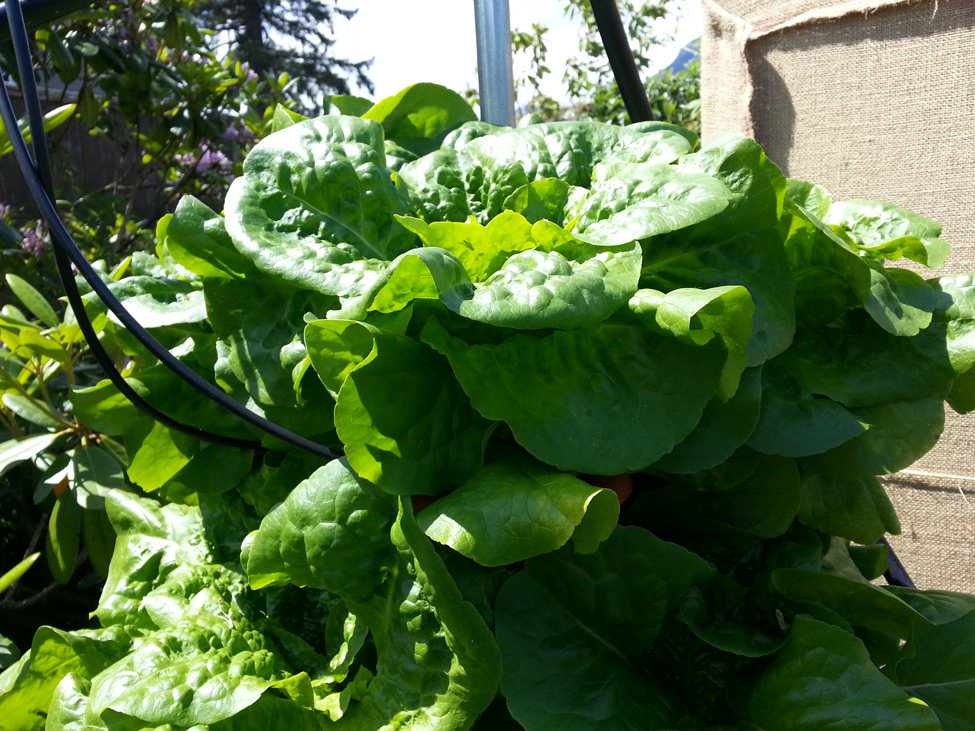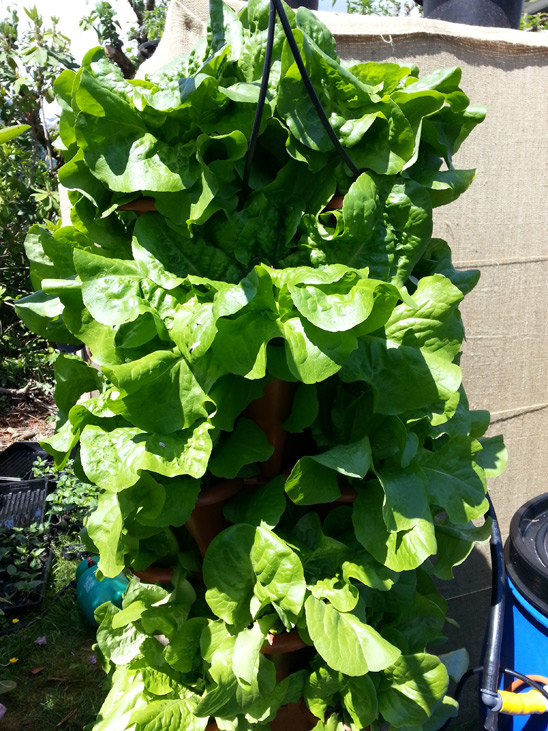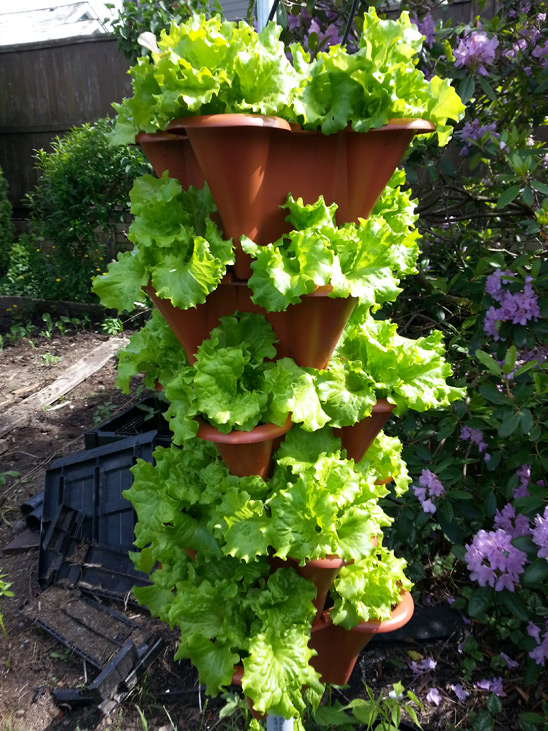 The system has only been up and running since around May 18. Since then, each pesticide free lettuce has at least produced 2 crops worth. After looking at a store flyer, that cost could easily be somewhere near $5-$6 per plant. Thus, at $5/plant in a tier of 20, the cost at the store for the same quantity could be near $100. So far, the plants have already paid for the cost of materials for building that tier. I was hoping to get close to even after year one, but it already looks like a solid investment; not to mention the quality benefits since I would normally buy the cheap stuff in the store.
Tomatoes
As far as tomatoes go, there are four varieties; Italia, Topsy Tom, Beefsteak and Tiny Tim. Productively speaking, all are doing fine, although Tiny Tim are dwarf plants and don't occupy as much space as the others.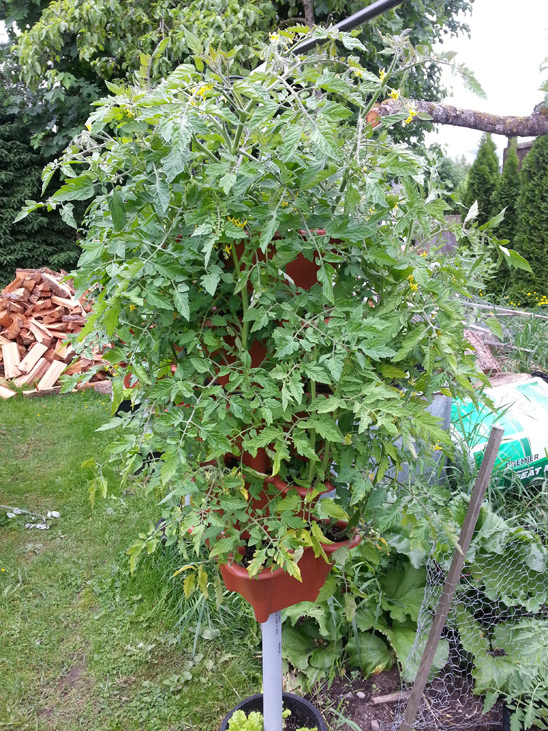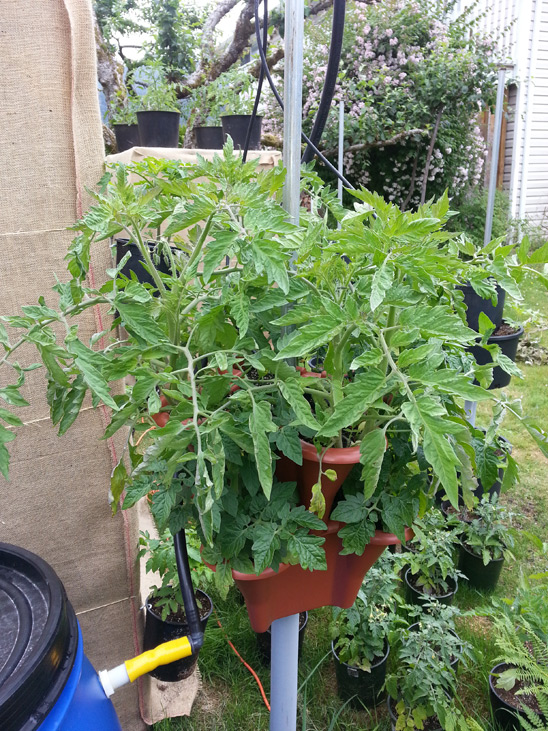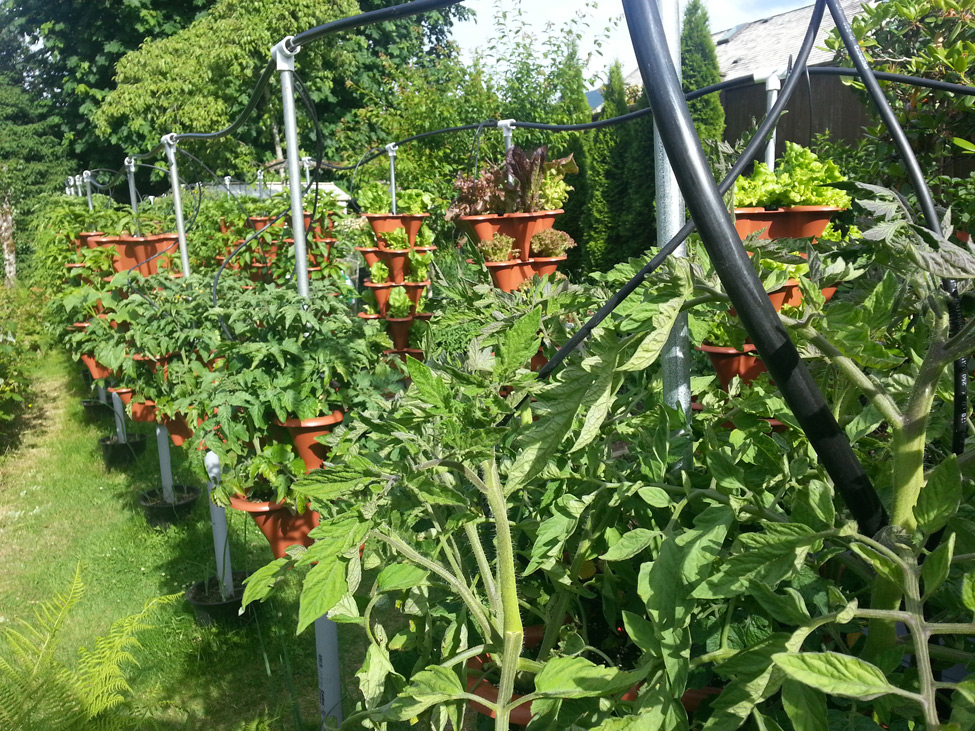 Tomatoes typically grow in a double pot stack, although in this case, some are in a 5 pot tier as they are hanging, indeterminate, non staking varieties like the Italia. As tomatoes in some 5 tier columns get large, extra feeding lines were required to feed the bottom three rows as the first two in a stack can suck up the nutrient and water before it has a chance to feed the bottom three levels.
In addition, there are many yellow flowers at this point in the season for these plants grown in the Pacific Northwest within 45 minutes of Vancouver and a few miles from the ocean.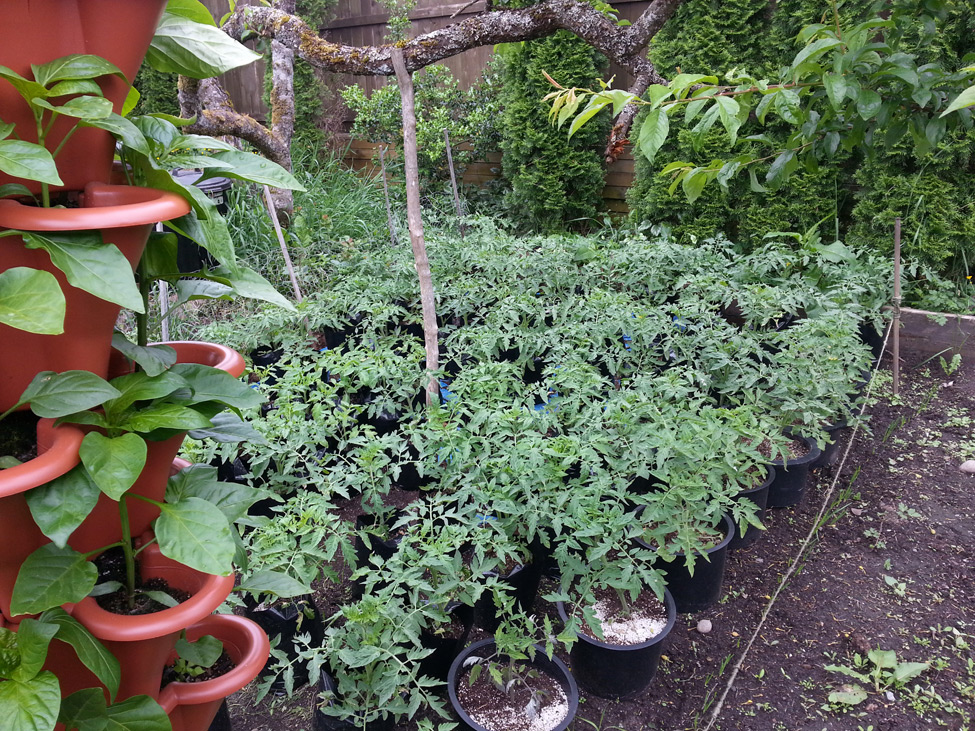 Colored Peppers
The tiers have two types of colored pepper varieties; Archimedes and California Wonder. Both seem to do well and they are difficult to tell the difference as they grow. But, in the end, one produces a red pepper and the other an orange variety. Soon, one tier of lettuce will be totally harvested and a some other variety of colored peppers will take the place in the pots.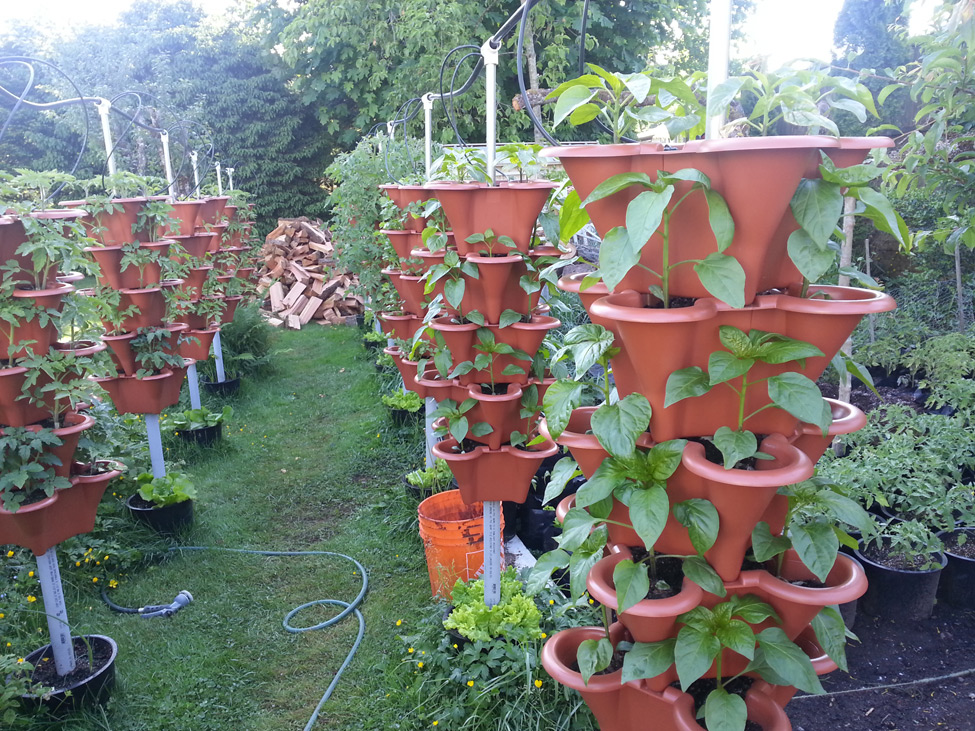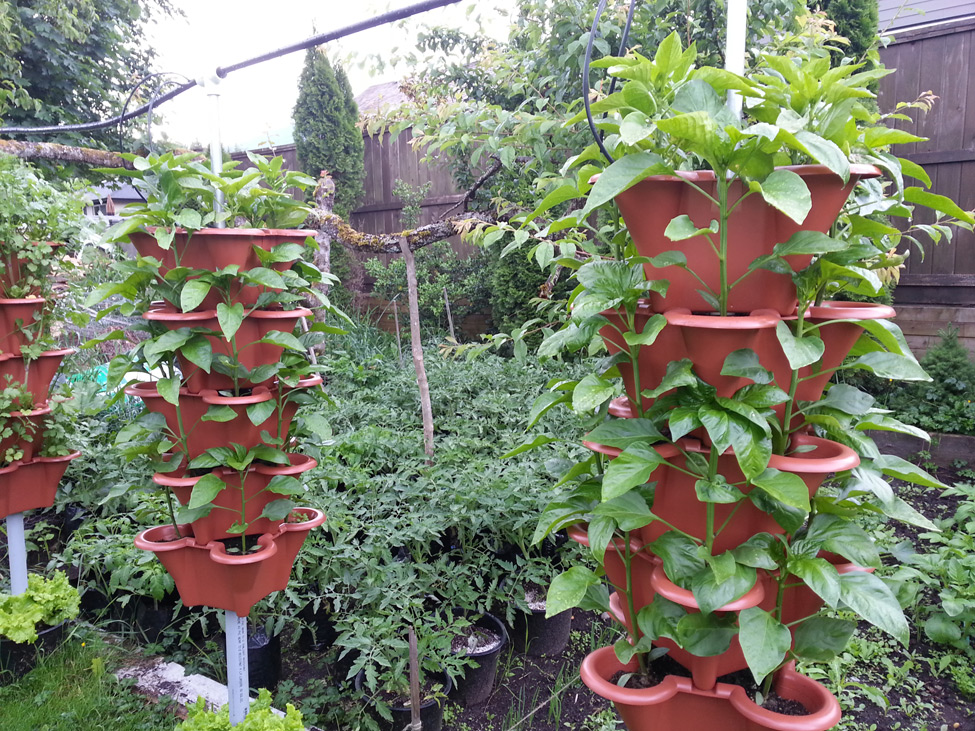 Jalapeno Peppers
There are many Jalapeno plants grown here as they will contribute to Mexican food and salsa making. They tend to grow a little slower than colored peppers in this climate.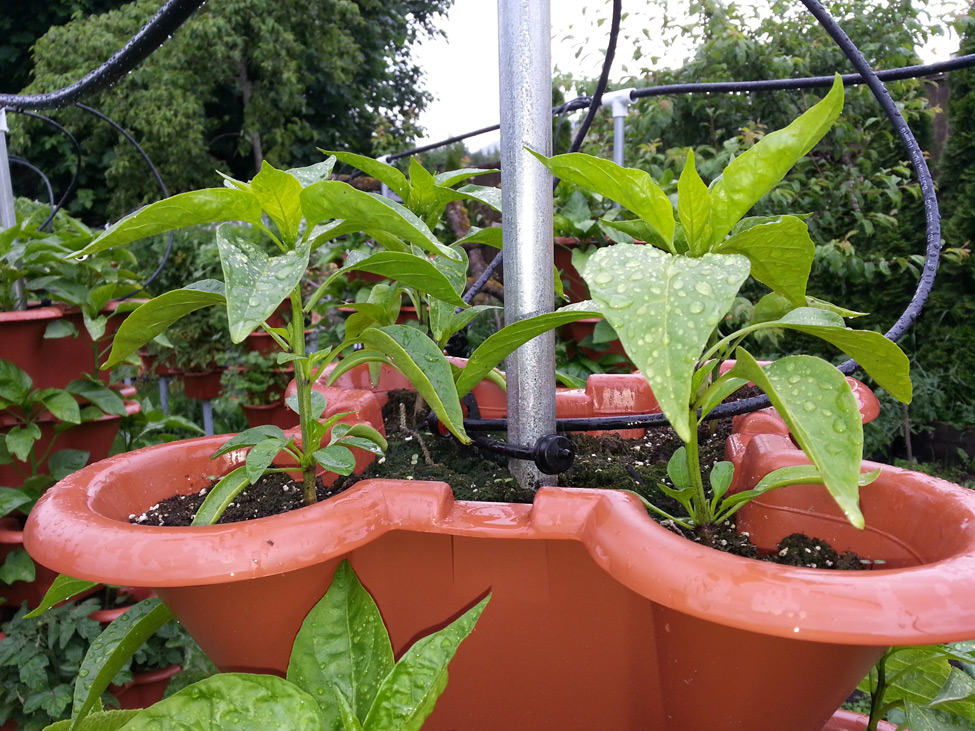 Cilantro
Cilantro plants are doing well. But, those plants grown on the sunny side tend to grow more leaf and less stalk than those on the shady side. Some plants, have transitioned into Coriander by growing long stalks and taking on new leaf shapes. Since Coriander is not desired, these plants will be replaced with young peppers.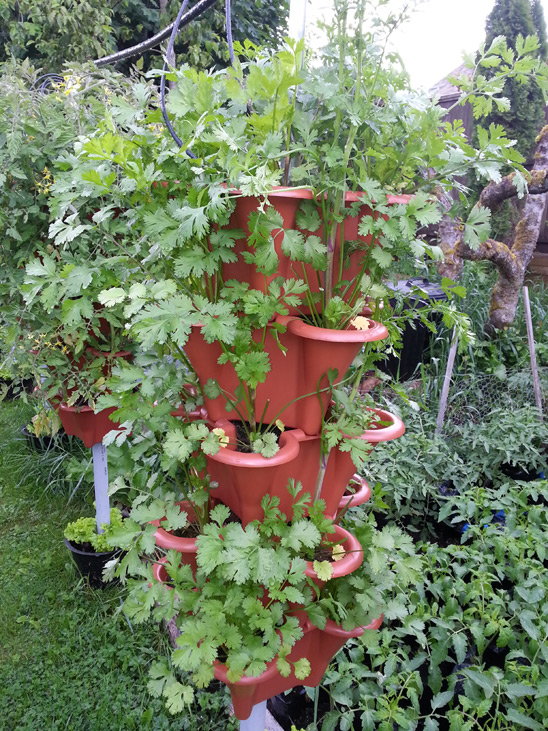 Cucumbers
Cucumber plants are doing okay. They are grown alongside jalapeno peppers on top of them and Tiny Tim tomatoes underneath.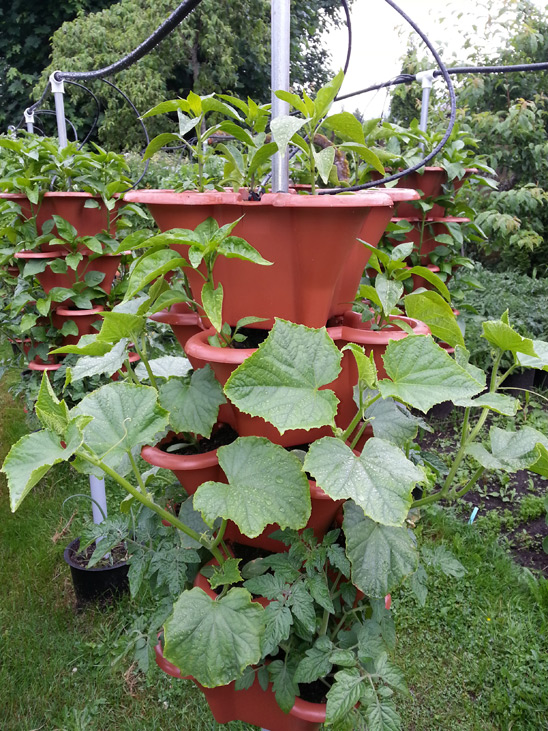 Mid June 2017 Hydroponic Garden in Pacific Northwest
Thus far, this Squamish hydroponic garden is rather low maintenance, even though you could think that a large plant supply could mean a large a workload. In fact, it can easily be maintained in June with under 30 minutes of time per week since there is no hand feeding, weeding and staking. In addition, the height above ground helps against pests like slugs and rodents. Most of the work each week is picking lettuce for salads. If you like Caesar salad, you can gorge on it all day long.